Plot
After Zac wishes to stay in Zahramay Falls forever, the kids search for a powerful genie to reverse the wish
Cast
Trivia
"Wishy Washy Genie first appearance in this episode."
"This is the first time Justin Felbinger voices Zac"
Songs
Teamwork Song (That's What it's All About)
Images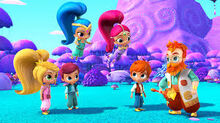 Ad blocker interference detected!
Wikia is a free-to-use site that makes money from advertising. We have a modified experience for viewers using ad blockers

Wikia is not accessible if you've made further modifications. Remove the custom ad blocker rule(s) and the page will load as expected.