"Gone Bowlin'" is an episode of Shimmer and Shine from the first season.
Logline
"Leah and Zac are pumped for day of bowling! But Leah is having a tough time trying to knock down a single pin, so she calls on Shimmer and Shine to lend a little genie magic to improve her game."
Voice cast
Eva Bella as Shimmer
Isabella Crovetti-Cramp as Shine
Alina Foley as Leah
Blake Bertrand as Zac
Melanie Fontana as Session Singer
Songs
Magic Carpet Song (We Are On Our Way)
Mistake Song
Bowling, Bowling
Travel Back
images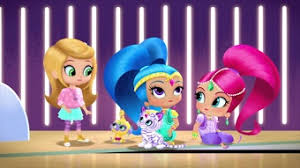 Ad blocker interference detected!
Wikia is a free-to-use site that makes money from advertising. We have a modified experience for viewers using ad blockers

Wikia is not accessible if you've made further modifications. Remove the custom ad blocker rule(s) and the page will load as expected.