The genie bottle is a small vase in which Genies resides. It is a focal point of Welcome to Zahramay Falls . The bottle is briefly shown along with Shimmer and Shine's other items during the main song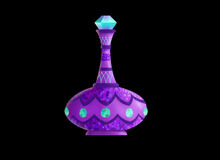 Looks
The genie bottle is mostly teal, blue,pink and gold. It is decorated with red and purple gems. Although the bottle is much smaller than the main characters, Genies including Leah and Zac can fit inside of it.
The genie bottle has appeared in all episodes of Shimmer and Shine: from season one and from season three (see below).Leah has a Genie Necklce
Ad blocker interference detected!
Wikia is a free-to-use site that makes money from advertising. We have a modified experience for viewers using ad blockers

Wikia is not accessible if you've made further modifications. Remove the custom ad blocker rule(s) and the page will load as expected.