Logline

Princess Samira and the girls travel to Rainbow Zahramay so Samira can introduce them to the Dance Magic Instructor, Sarah so they can learn some Dance Magic. However Zeta follows secretly follows them in the hopes of learning some Dance Magic moves herself. Sarah and Samira reveal that Dance Magic is so powerful that its effects cannot be undone by wish magic and only dance magic can undo its effects. Sarah also shows them her Dance Magic shoes which increase the power of her dance magic. Zeta who has trouble learning any dance moves decides to steal the shoes and flees Rainbow Zahramay freezing the Rainbow Waterfall allowing her to takeover Zahramay Falls while Samira is in Rainbow Zahramay to fill the Wishing Wells with wishes. Without their wish magic the girls are forced to use the few magic dances that Sarah and Samira taught them to unfreeze the waterfall and get Sarah's shoes back from Zeta before she uses the shoes to get rid of all dance magic.
Trivia
Voice Cast
Songs
It's Dance Magic
In Zeta Land
Keep Dancing
Images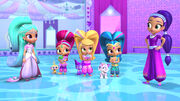 Ad blocker interference detected!
Wikia is a free-to-use site that makes money from advertising. We have a modified experience for viewers using ad blockers

Wikia is not accessible if you've made further modifications. Remove the custom ad blocker rule(s) and the page will load as expected.